Patient Discharge Folders
To make the patient admission and discharge process as easy as possible we designed a custom Patient Discharge Folder to help improve HCAHPS scores, readmisisons and meaningful use.
U.S. Patent No. 11,370,242 B2
Helping patients manage their care
When it comes to the patient discharge process, hospital HCAHPS scores and readmission rates it is essential that the patient understands the information they received during their hospital stay and how to continue managing their care at home. Providing patients with a well-organized Patient Discharge Folder enables them and their caregivers to easily locate the information they received, whether it be their discharge instructions, medication information, education material or future appointments.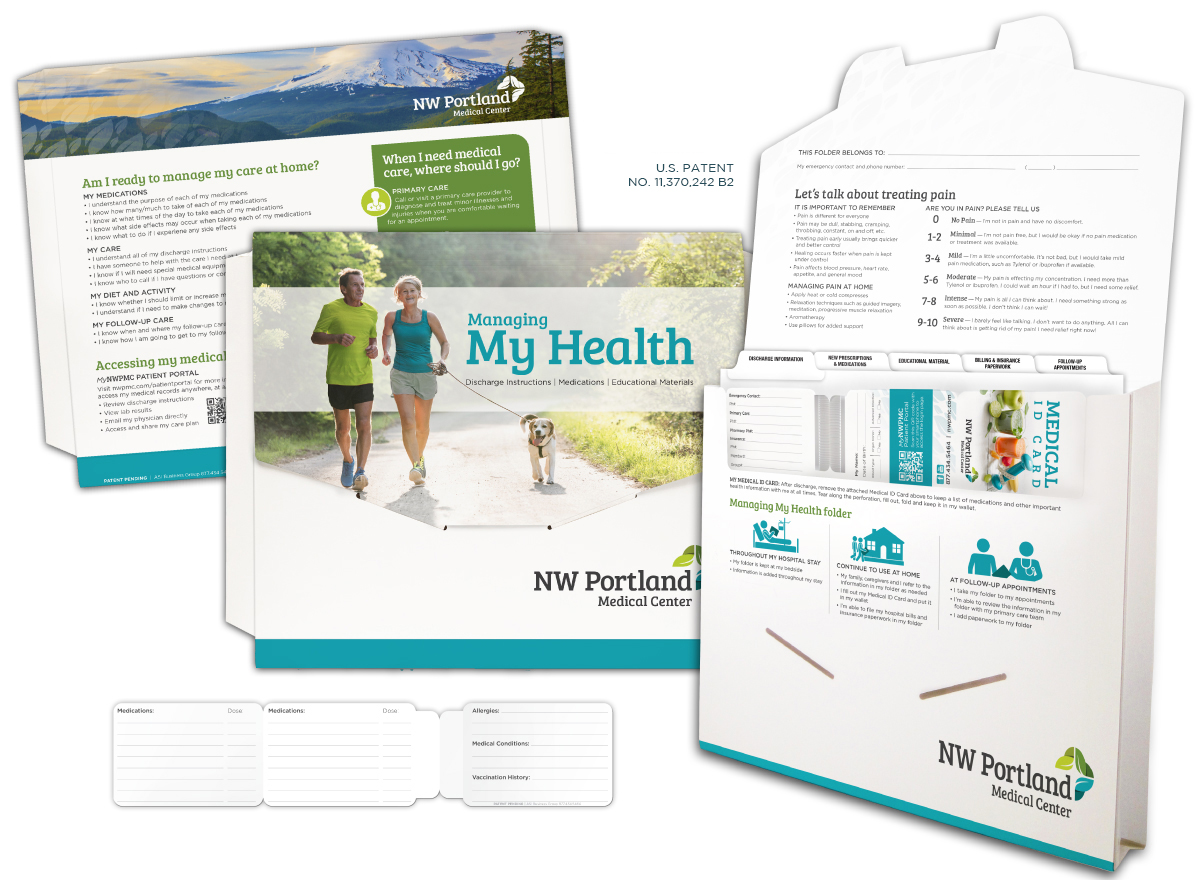 Higher HCAHPS Scores
Designed to positively impact your hospital's HCAHPS score by targeting 6 of 8 survey categories and overall patient satisfaction.
Reduce Readmissions
May help lower avoidable readmissions with organized access to care and medication information, nurse hotline and alternative care options.
Improve Patient Education
Educational information is printed directly on the folder.
Features
Folding Medical ID Card
Since patients are unlikely to carry their discharge folder with them at all times, we include a folding Medical ID Card built into our discharge folder. Easily removed and kept in the patient's wallet. Now patients have a list of their medications, side effects and a number to call if they have any symptoms or questions.
Organizational Tab Dividers
The section of the Patient Discharge Folder designed to hold all the patient's paperwork is slightly oversized and easily accommodates the addition of organizational dividers. Customized for your needs, choose the number of tabs, headings, colors, etc. An efficient way to organize all the information related to a patient's hospital stay.
Tuck-flap Closure
Special locking tuck-flaps and an extra long wrap-around flap keeps the discharge folder closed when needed. You'd hate to see a patient drop their discharge folder on the floor and watch the paperwork inside float across the hallway.
Custom Designed
Our in-house graphic design department customizes every hospital's Patient Discharge Folder to meet their specific objectives. We create artwork that goes beyond functionality to also match hospital brand standards. Quick-turn around time for proofs makes the design process hassle free.
Let's talk benefits!
One of our dedicated account representatives would be happy to talk to you about the added benefits of our Patient Discharge Folders. Send us a message, give us a call at 877.434.5464 or request samples to get started.