Maternity Discharge Folders
Having a baby brings a lot of questions — and a little chaos — into a new mother's life. Which is why we have designed a functional Maternity Discharge Folder that's meant to not only to be used for postpartum discharge instructions, but also for all of the baby and mother follow-up appointments that come next.
U.S. Patent No. 11,370,242 B2
Why do hospitals choose to use Maternity Discharge Folders?
It is important that the mother has a well-organized folder so it is easy for them to reference their postpartum instructions, medication information, and newborn care educational material after they've left the hospital. The Maternity Discharge Folder is completely customized to your hospital's brand and department's unique needs. Built into the folder is our standard Medical ID Card that can be easily detached and kept in the mother's purse or wallet to help them keep track of follow-up appointments and important medical information for themselves and their baby.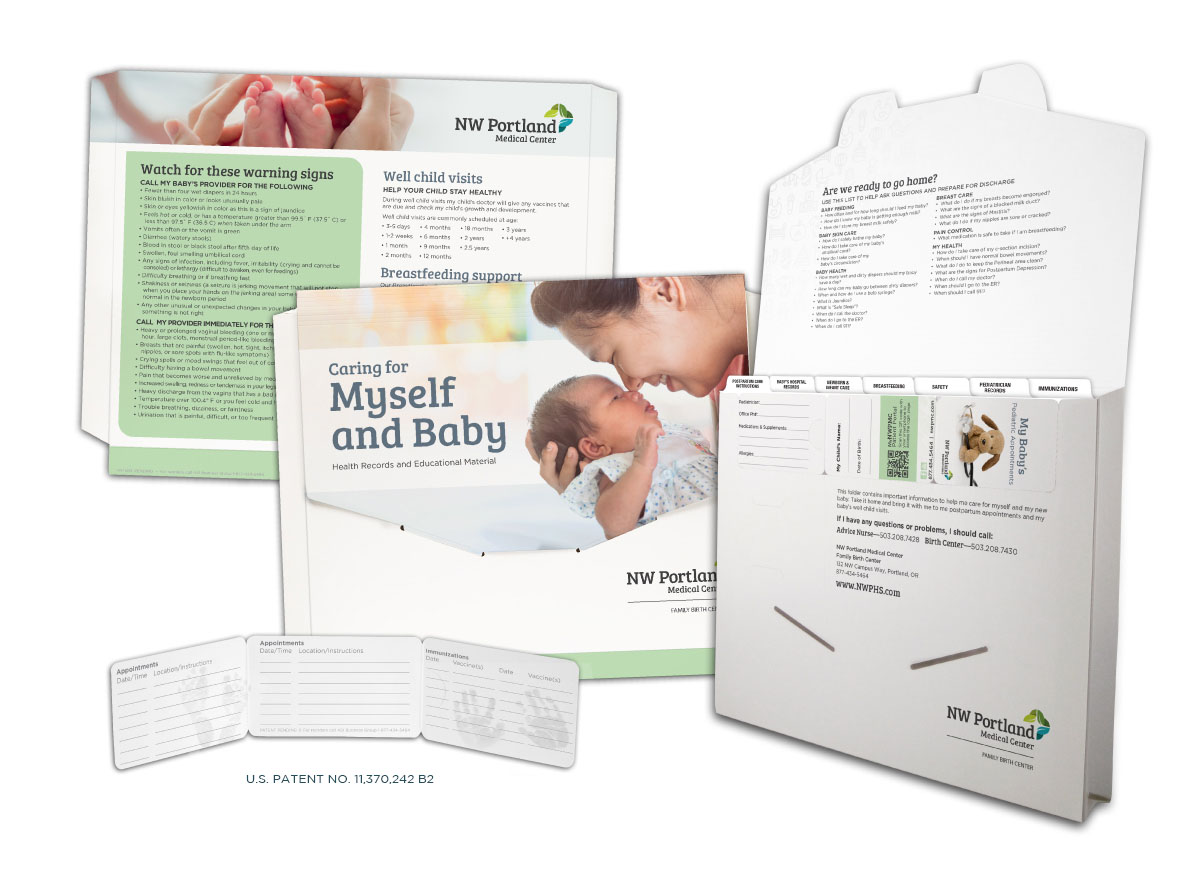 Features
Folding Medical ID Card
A folding Medical ID Card is built into our Maternity Discharge Folder; it is easily removed and kept in the patient's wallet. Commonly used to keep track of baby's appointments, vaccinations, medications, etc. A great place to include Advice Nurse contact information.
Organizational Tab Dividers
The section of the Maternity Discharge Folder designed to hold all the paperwork is slightly oversized and easily accommodates the addition of organizational dividers. Customized for your needs, choose the number of tabs, headings, colors, etc. An efficient way to organize all the information related to a patient's hospital stay.
Tuck-flap Closure
Special locking tuck-flaps and an extra long wrap-around flap keeps the Maternity Discharge Folder closed when needed. You'd hate to see a patient drop their  folder on the floor and watch the paperwork inside float across the hallway.
Let's talk benefits!
To learn more about our Maternity Discharge Folders and the affect they are having on mothers across the country feel free to request samples above or give us a call at (877) 434-5464.